India, June 2020
– During the recent lockdown in India, Makino India trained an Automotive OEM parts customer on routine maintenance. The virtual training workshop equipped the customer with 1) the know-how to bring down the rare downtime occurrence faced in non-optimal maintenance, and 2) Startup procedures after a prolonged shutdown due to lockdown.
The customer has 130 of
Slim3n
machines in locations across India. Therefore the great level of preparation based on the excellent understanding Makino has of the customer across location was evident in the interactive training of 80 people customer team. One of the most appropriate topics covered was, check points in maintenance particularly of the spindle which we need to take care after lockdown period while starting the machine.
The value the customer derived was very evident in the positive feedback by all participants and gratitude received from the customer. "It was highly interactive session and there was good discussion among all the associates and trainers". Another testimony of Makino being with the customer during tough times, and its intention to make best use of time and resources for lasting customer value.
To learn more of Makino's training sessions in India, please contact training@makino.co.in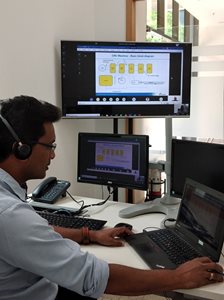 ABOUT MAKINO
Makino is a global leader in machine tool technology. The company has a long history of introducing innovative solutions that boost productivity and profitability. By integrating visionary digital technology with premium performance machines, Makino helps companies fundamentally transform.
Makino offers a wide range of the industry's most accurate and precise metal-cutting and EDM machinery, including horizontal machining centers, vertical machining centers, 5-axis machining centers, graphite machining centers, and wire and sinker EDMs.
To maximize efficiency of this equipment, Makino's engineering services can optimize processes across all industries. Makino also takes cost savings and throughput to another level with automation solutions that can be customized for any volume or setup.
To learn more, contact your
nearest
sales representative or
write to us
.